Georgian Sienna Marble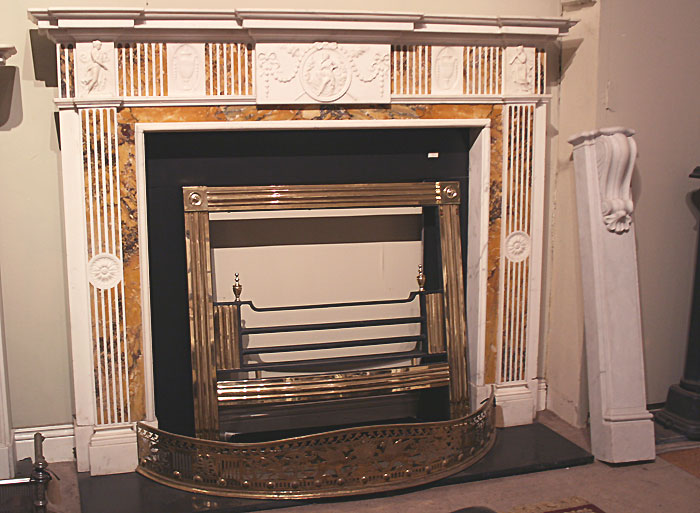 An original Irish Georgian chimneypiece from Dublin stone cutters, George and Hill Darley. Typical of the period, this marble chimneypiece has Sienna stone, and features neo-classical musical emblems. This fine fireplace would have been a feature piece of a living room in a grand Irish house.
The break-front frieze, inlaid with Sienna marble fluting, features a center tablet depicting a neo-classical scene of a female musician, with lyre seen in the background, is in thoughtful pose. The scene is surrounded by delicate ribbon and bow carved detailing.
Two classic urns in antique white statuary marble adorn the sienna inlays on each side of the center piece, and all is flanked by the cornerblocks, continuing the musical theme, each depicts a classical figure. A piper one one side, and a triangle player on the other.
The fluted inlaid supporting pilasters also feature a carved rosette, itself a common feature of the Darley brothers designs. The pilasters rest on carved marble footblocks.
The fireplace opening is complemented by slate slips, and is shown here with a brass regency grate typical of the period.