Bossi Marble Chimneypiece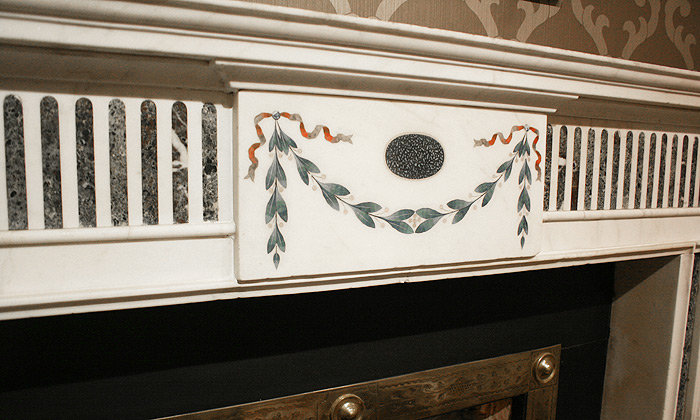 S cagliola - the art of combining, hardening and polishing paste to imitate marble, and embedding into the marble to fashion ornate decorations - was invented by the Romans, and some say, was perfected by Pietro Bossi, the Italian stone craftsman who settled in Dublin in the late 1700s.
This Bossi chimneypiece (provenance available), originally from a country house, features Basalt stone mined in Germany, statuary white marble, and examples of his scagliola work. Bossi's leaf work was usually life sized and almost exclusively vine and ivy, and the motifs he employed were almost exclusively of classical motifs. This fireplace boasts some particularly finely crafted examples of leaf work.
The centerpiece and cornerstones, both featuring scagliola vine leaves, flank the statuary white marble frieze itself delicately fluted with Basalt. The base of the supporting jambs, again of Basalt, boast square pilasters of white marble, both gently tapering adding to the lightness of proportion. Both rest on carved marble footstones.
The engraved brass register grate is the original grate for this chimneypiece. It is signed by Lambert & Son of Dublin, and features a simple but elegant pattern of shamrocks and clover.
The fireplace opening is finished with slate slips as was traditional for the period.